Terms and conditions
Terms and conditions:
Company information:
Home Sweet Home and Garden
Business location: Hummelo

Tel: 0031 (0) 314-745040
Mobile: 0031 (0) 6-13434671

Bank acount: ABN AMRO: NL74 ABNA 0844256285
IBAN: NL74 ABNA 0844256285
BIC / SWIFT: ABNANL2A

KvK 63005786
VAT no: NL855050834B01

Order
After your order you will receive an email confirmation with the full purchase price including shipping costs. Every order is provided by us by e-mail confirmed within 24 hours.
If the ordered item is unexpectedly not available, we will respond as soon as possible
by e-mail.

Prices and Payments
All prices are in Euros, including VAT and excluding shipping costs. Payment is due after you receive an order confirmation containing the purchase price including shipping costs, within 7 days to be credited to the bank account of Home Sweet Home and Garden. This account number is stated on the invoice and in the email confirmation of your order.

PAY IT FORWARD:
You can transfer the amount to the bank account NL74 ABNA 0844256285 in name of Home Sweet Home and Garden. Customers outside the Netherlands (within the EU) need the following information for the payment to Home Sweet Home and Garden.
IBAN: 0844256285 NL74ABNA
BIC / SWIFT: FTSBNL2R
Note: Do not forget to mention your order number in the payment!

CASH:
If you choose to pick up your order you can pay your order cash in our shop in Hummelo. Paying by bankcard is possible!
PAYPAL
It is possible to pay by paypal
Company name: Home Sweet Home and Garden
Email; info@homesweethomeandgarden.nl
 
Our products
Many of the products in the webshop of Home Sweet Home and Garden show normal user traces. We will always try to give a clear, honest impression about the state of these articles. If you still have questions, we are happy to answer them for you. Home Sweet Home and Garden is not liable for consequential damages that recipient or a third person in respect of the products may suffer.

Delivery Time:
Items are delivered within 5 working days after payment.
On the day of sending you will receive a message about it. We will pack the packages with great care. We highly appreciate that you let us know by e-mail or the guestbook if you package has arrived safely.

We ship by  DPD, DHL and POST.nl

Shipping costs Netherlands:
0-30 kg € 6.95 (your package is shipped insured)
Mailbox Post is standard € 3.25

Shipping abroad:
Belgium, Germany, 0-31 kg € 12,50
Austria, 0-31 kg € 13.00
Italy, 0-2 kg € 13.00, € 19.50 2-5 kg, 5-30 kg € 27.50
France, 0-31 kg € 18.95
Great Britain, 0-31 kg € 18.95
Sweden, 0-2 kg € 13.00, 2-5 kg ​​€ 19.50, € 25.00 5-10 kg, 10-30 kg € 36.00
USA, 0-2 kg € 25.95, 2-5 kg ​​€ 35.95, € 59.95 5-10 kg, 10-20 kg € 106.95

All packages must remain within a dimension of 50x50x100 cm.
If the items by size or weight cannot be transmitted than we already mention this in the article on the website.

Cooling-off period and return
Customers buying a product at Home Sweet Home and Garden have a cooling-off period of 7 working days.  (Returned items must not be damaged, used or are incomplete and must be returned in their original box.  The shipping costs will be charged to buyer.
We do not accept unstamped shipments. COD shipments will not be accepted..

Liability
Many of our products exhibit normal user traces.  We are not liable for damages resulting from the use of a product delivered by us.
Home Sweet Home and Garden provides a careful packaging and shipment of the order. The potential risks sending the order entails are always for the buyer. Home Sweet Home and Garden is not liable for the loss or damage of shipped items. Colors of the articles / pictures on the website may be different from the actual colors.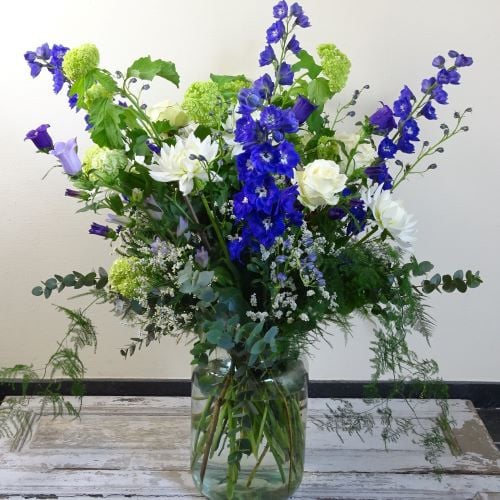 Openinghours:
Thu 09.30-17.30
Fri 09.30-17.30
Sat 09.30-17.30
on appointment open

App or call us to
order flowers
T +31(6)13434671
T +31(314)745040
Antiquedealer
Florist
For all your custom
bouquets and flower
arrangements.