WREATHS
Beautiful wreaths ..... for a nice place in your house. 
All articles on this page can be shipped
Most of our handmade wreaths can be shipped.
Wreath of eucalyptus

Beautiful large wreath, loosely bound with eucalyptus and tirlansia.

Diameter 47 cm or 55 cm

This wreath will dry very nicely.

€ 69,00

Eucalyptus wreath with Gypsophila

Wreath bound on a wire ring with eucalyptus cinera interspersed with gypsophila ...

Diameter 40 cm

Can be shipped without any problems in Europe.

€ 45,00

Wreath of Quercus ilex

Wreath of Quercus ilex.
Dries very nicely, so you enjoy it for a long time.All wreaths are handmade and in different sizes.

- 38-40 cm, Price 45.00
- 48-50 cm, Price 65.00

€ 55,00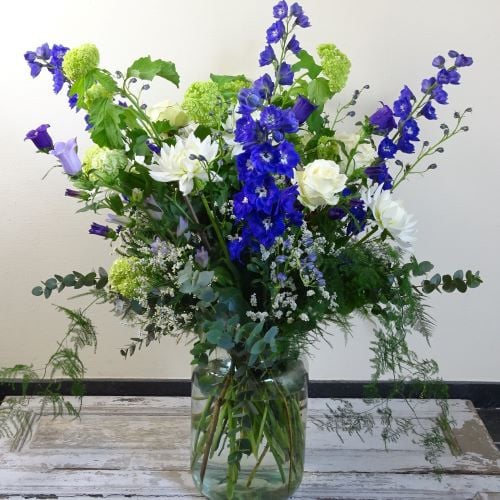 Openinghours:
Thu 09.30-17.30
Fri 09.30-17.30
Sat 09.30-17.30
on appointment open

App or call us to
order flowers
T +31(6)13434671
T +31(314)745040
Antiquedealer
Florist
For all your custom
bouquets and flower
arrangements.